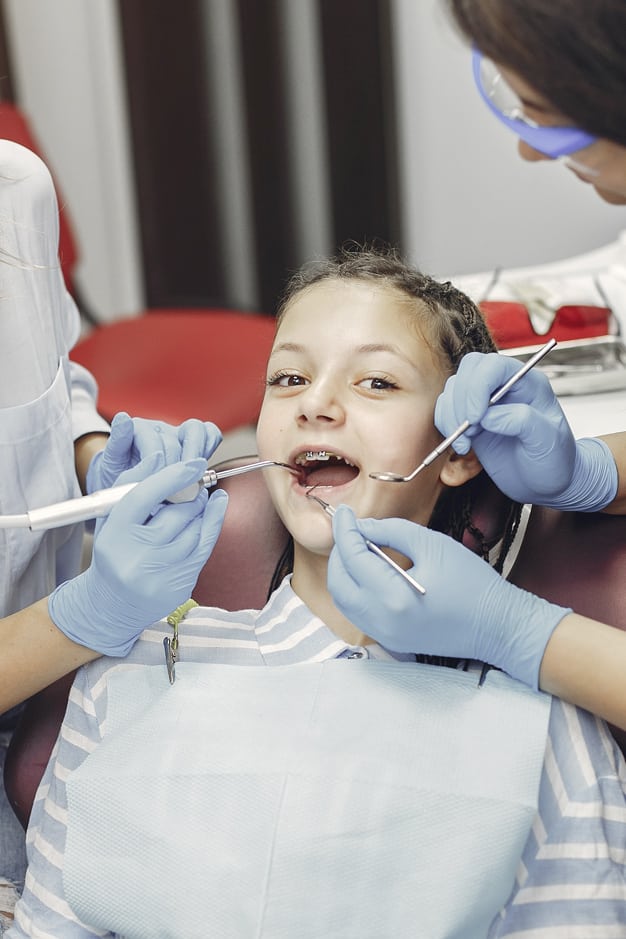 Our team of Pediatric Dentists and experienced and friendly team have specialized in making all children and adolescents feel very comfortable at the dental office.
We know that every child is special, and it is our goal from the very beginning to understand each child's needs to allow for excellent dental health in a family friendly and comfortable environment for our patients and parents from the start.
Childhood and adolescence are age of dental problems and we have a squad of pediatric dentists and experienced friendly staff makes it very comfortable at the dental office. Each child is very special and hence it is our goal to provide the best of the dental care in a family friendly and comfortable environment for both kids and their parents from the start. Ideally, the first dental visit of a child should be scheduled around his/her first birthday. At this age, it is very important for them to be at ease. It is very essential that proper care of the gums is done before that first tooth erupts. Good diet and healthy primary teeth is important for clear speech, good self-image and healthier permanent teeth. We should provide them with preventive measures for healthy and clean teeth.
At the time of dental emergencies like toothache or knocked out tooth, we ensure you that we are here with excellent care and maintenance for the development of a healthy adult set of teeth. We help you with the latest technology in dental care for both primary and permanent teeth. We are with you, no matter what. Let it be the first dental appointment of your child or to get a mouth guard for your teenage athlete. Many children make use of dental crowns, dental bridges, dental braces or clear aligners to help get them on track for outstanding oral health. With our help, your child can have teeth that look fantastic so that they can feel confident amongst their peers. We are with you in each step of your child to maintain a healthy smile. Our experts support them to practice lasting oral health habits we strongly preach and help the children to practice preventative dentistry (which includes teeth cleanings and dental sealants). This gives them a better chance to avoid dental caries and early gum disease.
We recommend your child's first dental visit when their first tooth erupts, or by age 1, in accordance with the guidelines from the American Dental Association and the American Academy of Pediatric Dentistry. Whether you're scheduling your child's first dental visit or you're looking for a new dental home, our dedicated team delighted is meet you and your child!
Make Your Dream Smile A Reality!
Call us or Book Your Appointment Today.
Find the reviews and testimonials from our patients regarding Lakewood Dental Smile.
"Very professional, experienced dentist…gentle touch. I would highly recommend him to anyone looking for a dentist who provides quality care! My smile looks Great!"